COVID-19 content and services
The work our nation's hospitals and health systems are doing in response to the COVID-19 pandemic is invaluable. If the Coffey team can take any of the burden off your staff, we want to do it.
We support you so you can support your community
Whether you need COVID-19 content to help keep your community informed, or want help filling the gaps in your social media calendar, Coffey can take care of it.
Here are some of the ways Coffey is currently supporting clients:
Custom coronavirus landing pages and homepage banners.
A dedicated coronavirus topic center in your site's Health Information Library.
Prescheduled social media posts.
COVID-19-specific articles and full COVID-19 print publications, updated as the Centers for Disease Control and Prevention (CDC) changes recommendations.
Internal communications assistance.
If you are not yet a client of Coffey, we can also help with:
A digital Health Information Library for your website, filled with health and wellness information and a specific COVID-19 topic center that is added to daily.
Social media posts written specifically for your community.
COVID-19-specific articles and full COVID-19 print publications, updated as the CDC changes recommendations.
Internal communications assistance.
Content you can count on
The World Health Organization and CDC have changed their recommendations many times as the coronavirus situation continues to evolve. Coffey's content team reviews all COVID-19 content at least weekly to ensure our materials are accurate and trustworthy.
COVID-19 resources for every channel
Infographics
Visual tips for understanding the new coronavirus.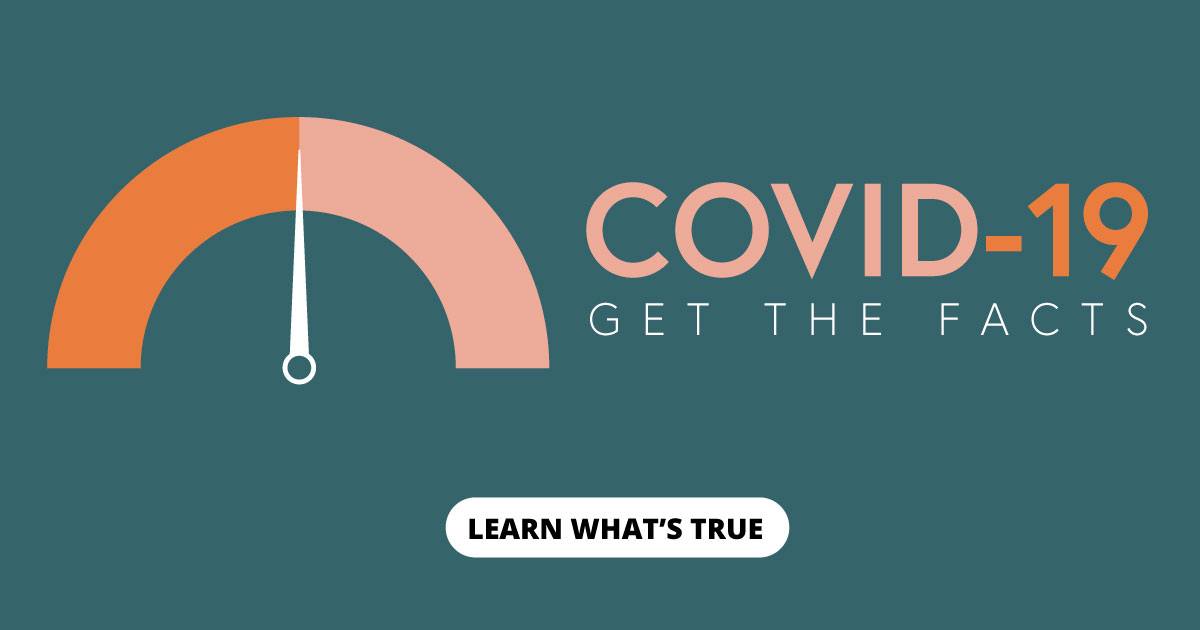 Reviewed 10/20/2020
9 facts & myths about COVID-19
There's a lot of misinformation on the internet and elsewhere about COVID-19, the disease caused by the coronavirus. Some of the misinformation is about phony cures and who can get the virus. To stay healthy, you want to follow good advice coming from reliable sources.
Here are some myths and facts about the coronavirus.
Fact: Washing your hands helps protect against the coronavirus. Frequently washing your hands with soap and water or cleaning them with an alcohol-based sanitizer can help protect against the virus. Doing so helps you avoid infections that could occur if you touch your eyes, mouth or nose.
Fact: The coronavirus can spread through the air. The virus may sometimes linger in the air in poorly ventilated indoor spaces. Or it may stay on surfaces for a short time. But the main way it spreads is through close contact with someone who has the virus. It usually passes from one person to another through droplets the infected person breathes out.
Myth: Hand dryers can kill the coronavirus. Not true. Hand dryers are good for drying your hands after washing them, but the warm air won't have an effect on the virus itself.
Myth: You should use an ultraviolet (UV) lamp to disinfect your skin. UV lamps should not be used to sterilize hands or other areas of the skin. UV radiation can cause skin irritation.
Fact: The coronavirus may not cause symptoms right away. It can take anywhere between 2 and 14 days before people who are infected develop symptoms.
Myth: Spraying bleach or chlorine on your skin or drinking it can kill the coronavirus. Not true. Bleach and chlorine can be useful to disinfect surfaces like kitchen counters and doorknobs. But you should never drink them or use them on your skin. They are poisonous when ingested. And they can damage skin.
Fact: Vaccines for pneumonia and the flu won't protect you against the coronavirus. It's true that these vaccines don't protect against the virus. But they are important for other reasons. Almost everyone 6 months and older needs a flu shot every year. Ask your doctor if you may also need the pneumococcal vaccine. Researchers are trying to develop a vaccine against COVID-19 right now.
Myth: Regularly rinsing your nose with saline can help prevent infection with the coronavirus. There is no evidence that regularly rinsing the nose with saline can prevent infection with the virus.
Fact: People of all ages can be infected by the coronavirus. While people of all ages can be infected by the virus, older people—and those with pre-existing medical conditions—appear to be more vulnerable to becoming severely ill with the virus.
Wash your hands the right way
Learn how to wash your hands in the most effective way to prevent germs.
Sources: Centers for Disease Control and Prevention; World Health Organization
Articles
New articles released weekly with the latest COVID-19 advice.
How to self-quarantine with COVID-19
If you develop COVID-19 or have been exposed to the virus that causes it, you may be asked to self-isolate (if you're sick) or self-quarantine (if you might be sick). But what does that mean?
In some people, COVID-19 is mild enough that you can safely recover at home. But you need to protect other people at the same time. If your doctor or local health department asks you to self-isolate or self-quarantine, here's what the Centers for Disease Control and Prevention says to do:
Don't leave home except to get medical care. Staying home means no activities at work, school or any other public places. Don't use taxis, ride-sharing or public transportation either. If you do need medical care, call ahead for instructions. If it's an emergency, call 911.
Keep away from people and pets at home. You need to keep a safe distance (at least 6 feet) from others. If you can, restrict yourself to a sick room and try to use a separate bathroom from others. Avoid handling your pets, and let another family member take care of their needs at this time, if possible.
Use a face mask. You should wear a face mask whenever you can't avoid being around other people or pets, or if you're told to come to a hospital or doctor's office.
Cover your coughs. When you need to cough or sneeze, cover your mouth and nose with a tissue and throw it in the trash. Then wash your hands right away.
Clean your hands often. This is an important habit to keep up, even if you already have COVID-19. Use soap and water and wash for at least 20 seconds. If you don't have soap and water, a hand sanitizer with at least 60% alcohol will work, but make sure to rub your hands together until they feel dry. Avoid touching your face with unwashed hands.
Clean high-touch surfaces. Objects that you and others touch often need to be disinfected daily. Most household disinfectants should work. It's best to clean your own sick room and bathroom if you can, wearing disposable gloves. If someone else must clean them, they should wear a mask and gloves.
Stay home until you get the green light. People with COVID-19 must remain at home until their doctors have determined it's safe to go back out. The timing may not be the same for everyone. So try to be patient, and follow your doctor's instructions.
Remember, playing by these rules helps keep everyone in your community safer. And that may save lives.
Reviewed 10/7/2020

Curated content delivered to your patients' homes
We've paired content with illustrations and design to create engaging COVID-19 information in three formats: tabloid, newsletter and magazine.
Tabloid sample pages
Newsletter sample pages
Magazine sample pages

We're here to help
Let us know how we can help support your business communications during this time.