MozCon 2018: 4 takeaways for healthcare marketers
Here are some of the top digital marketing ideas from this year's MozCon—and ideas for applying them to healthcare marketing.
MozCon has become something of a Coffey tradition. This was the fifth year that members of our team made the trip to Seattle for three days jammed with information—and delicious snacks.
Search engine optimization (SEO) is a major focus of MozCon, but this year's conference also provided relevant and timely information across a whole spectrum of related topics, including how to present reports, how to manage a team and roll out new products, and how machine learning is changing the world of content.
We'll be diving deeper on some of the things we learned at this year's conference in future blog posts. For now, here's one takeaway from each of the Coffey team members who attended this year's conference, with a special focus on how the information might help your healthcare marketing efforts.
Do this one thing to make your healthcare content matter
Sherilee Coffey, Director of Creative Operations
If there's one concept or theme that stood out to me at MozCon, it was that content does not matter unless it is serving your customers.
This is true whether you're creating a healthcare website, content for a blog or materials for your magazine. If you aren't answering people's questions then you're probably wasting your energy.
As was said many times at this year's conference, it's all about intent—and all the right keywords and technical SEO won't help content unless it's delivered with the right intent for the reader.
Optimizing means organizing your site for both bots and people
Jennifer Garza, Digital Content Analyst
Healthcare SEO isn't just about content and keywords, you also need to think about how site organization can impact the experience for both search bots and customers.
This may seem somewhat obvious, but it's an increasingly complicated task to pull off.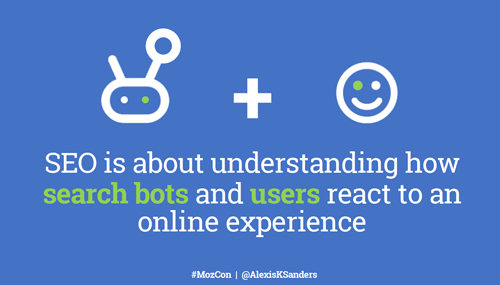 Speaker Alexis Sanders introduced the idea of the SEO Cyborg, noting that "SEO is about understanding how search bots and users react to an online experience."
Information on your website needs to be organized so that it is easy for search bots to crawl and also creates a great experience for people who visit. This requires an organized information architecture across your navigation, page content (headers, subheads) and your internal links.
While the technical portion of information architecture can be addressed through a well thought-out plan for proper site indexing and rendering, the human portion requires a different approach. Ashley Green talked about the concept of empathy driven marketing—the need to truly put the customer's needs first. For example, your website's content structure shouldn't be determined by the internal structure of your hospital. Instead, it should be driven by the way a patient is going to be searching and the information they are looking for. It is about the journey your customer wants, not the journey you want them to take.
All search is local search
Jeremy Dietz, Executive Digital Editor
MozCon 2018 reinforced a trend that I've been seeing recently at other conferences and across the search industry—an increasing focus on the importance of local search.
In his excellent local search presentation, Rob Bucci noted that, for people whose devices know where they are (which is most of us), every search result is somewhat local.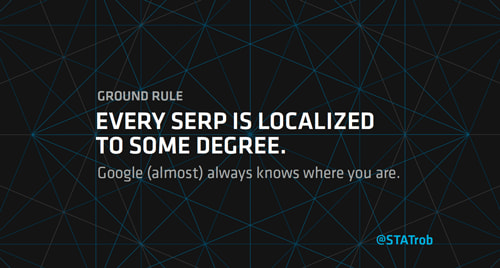 And, even if your healthcare organization serves consumers across the nation, it's likely that healthcare consumers are still looking for your doctors and locations in specific locations that are near them.
Here are a few of the many great local search tips presented at MozCon this year:
Claim and optimize your Google My Business (GMB) listing. In his presentation, Mike Ramsey noted that, if you have a local presence, GMB is the new front page of your website. If you're a health system with many locations, remember that you'll want to claim and optimize all your GMB listings.
Ask for reviews. Good reviews can help your local search performance (think "best orthopedic surgeon near me" type searches). But a great review is powerful regardless of what it does for you in search. Remember: Unlike Yelp, Google doesn't mind you asking for people to give you a review. In fact, they encourage it.
Answer questions. Google has made it easy for people to ask you questions—and for other searchers to see those questions right in the search results. Fortunately, they've also made it easy for you to use GMB to monitor and respond to questions. If no one's asking questions about your organization yet, consider posting a few commonly asked questions there yourself.
Experiment with Google Posts. This relatively new feature allows you to create promotions that appear right in the knowledge graph. But, to date, most organizations aren't using this feature. Here's an idea for healthcare marketers: create posts to promote key community events. Wondering how to do it? Check out Google's guide to creating posts.
No SEO is an island
Molly Phillips, Digital Content Specialist
I'd heard it a thousand times before—silos in the workplace hurt your business. Numerous B2B blogs have told me that a lack of cross-communication between departments can result in everything from poor campaign performance to shoddily built products. But the majority of these blogs tackled the issue in such general terms that more often than not, I walked away from what I had read with no actionable solutions.
Such was not the case at MozCon 2018. Whether or not the speakers' talks were specifically geared towards the topic of breaking down silos, the issue came up in nearly every session. And the solution was clear—a successful SEO needs to be both an expert and an educator in their field. Here's why: SEOs are paid to know search backwards and front, but they aren't paid to know how to code the website or write killer landing page copy. You need talented developers and creative copywriters for that. But both of those jobs factor heavily on a site's search performance. So why then do so many SEOs spend their time doubling back to correct the work that a developer or copywriter has done, when they could have just been generous and shared their SEO knowledge in the first place?
I absolutely loved this question because it's A, relevant for almost every business and B, possible to solve. So as I continue to build my SEO knowledge, my action items are simple—I will share what I learn with others outside of my department, and I will never, ever, ever make a search-related correction without explaining why.
See you next year?
We've already bought tickets for next year's MozCon. If you have the opportunity, we highly recommend that you join us.
In the meantime, if you have any questions about the ideas in this post (or just want to talk more about digital healthcare marketing), drop us a line.
Insights in your inbox.
Get the latest news and resources in healthcare marketing delivered straight to your inbox.
You're all signed up
So we can send you relevant content, what are some topics you're interested in?