Hospital SEO: 5 common problems
Getting the basics of search engine optimization (SEO) right can help make sure your hospital's website content is found by people in your community.
October 21, 2020
Jeremy Dietz, Executive Digital Editor
Search engine optimization (SEO) is an essential part of a successful web presence for a hospital. After all, 77 percent of people who look for health information online start at a search engine.
If you don't do any SEO, your hospital may not show up when people in your community do those searches.
Unfortunately, many hospital websites have fundamental SEO problems that are keeping them from reaching healthcare consumers. In some cases, these problems could be fixed fairly easily.
Here are 5 common SEO problems we see on hospital websites and some solutions that can help address them.
Hospital SEO problem #1: No service page content
Someone in your area searches for info on "hip replacement." Another looks up "weight-loss surgery." Does your facility show up in the search results? If so, it's likely your service line pages show up.
Too often, we see hospital services relegated to a simple bulleted list or not mentioned at all. This approach makes it difficult for the hospital to rank for searches related to those services—particularly if the hospital has a competitor whose website does have useful content.
This is one of the easiest SEO problems to fix. Add content about a service to your website, and your chances of being ranked for searches related to that service go up exponentially.
An important caveat: Yes, you want to show up. But bad service line content isn't much better than no service line content. Even if you do manage to rank, if that content doesn't provide value to healthcare consumers, it wasn't worth putting up.
Solutions:
Do keyword research. Find out what search terms people in your area use when looking for that service. Use the most important words in the page title and in at least one subhead, and include them naturally in the copy.
Optimize for search; write for people. Think about the questions or problems that are bringing them to the page you're creating. Provide answers in language people can understand. It doesn't matter if a page ranks in search if it isn't useful to the people who visit it.
Emphasize your unique value. What does your service offer that sets you apart? Make sure people know about this.
Include a call to action. What should people do after reading this page? Call to make an appointment? Complete a risk assessment? Ask their doctor for a referral? Don't leave your readers at a dead end.
Problem #2: Missing or weak title tags
After the content on a page, the title tag has the most SEO value. Title tags are often used in search engine results as the link to the page.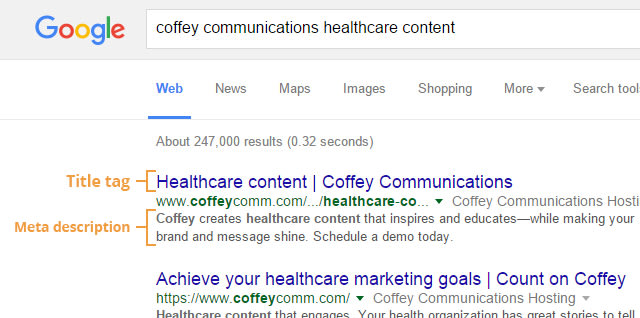 Common title tag problems we see include missing title tags, duplicate title tags and title tags that aren't optimized for search.
Solutions:
Write a unique title tag for each page on your site.
Write clearly. People tend to scan on the web. Make your titles clear and eye-catching.
Lead with the most important keywords for the page.
Include your hospital's name at the end.
Keep titles short. Google typically shows the first 50 to 60 characters of a title tag. Anything after that will get cut off. MOZ has a great title tag preview tool that makes it easy for you to get an idea of how your title will look in search results.
Problem #3: A poor mobile experience
Earlier this year, Google announced (to much fanfare) that it was expanding mobile-friendliness as a ranking signal in mobile searches.
While this change didn't necessarily shake up the search results pages as dramatically as some people predicted, there's no doubt that having a mobile-friendly website is important for hospitals for both SEO purposes and for general usability.
Still, too many hospital websites are behind the curve when it comes to mobile.
Solution:
Make your site mobile-friendly. This isn't a simple task, but it's worth the effort.
Problem #4: Poorly constructed URLs
A well-crafted URL should give both a person and a search engine a good idea of what the page is about and where it sits in the context of the website.
Solution:
Create descriptive and intuitively named URLs for each page on your hospital's website. (Coffey's CMS does this automatically!)

For example, your URLs should look like this:
www.coffeycomm.com/our-expertise/website-design-and-development

Not like this:
www.coffeycomm.com/B0007TJ5OG/102-8372974-4064145v=glance&n=502394&m=ATVPDKIKX0DER&n=3031001&s=photo&v=glance
Problem #5: Missing or duplicate meta descriptions
Meta descriptions are often displayed as the teaser text that appears below a link in search results. They don't directly influence your search performance but they could influence whether or not someone clicks through to your site instead of to your competitor's.
Think of your meta description (along with your title tag) as a short ad for the page that tells people exactly what they'll find if they click.
Solutions:
Create unique meta descriptions for each page on your website.
Keep your meta descriptions to 155 characters or less to help ensure it shows up properly in search results.
More about hospital SEO coming soon!
Ready to learn more about how SEO can help your hospital's website? We're planning Coffey blog posts about local SEO for hospitals and on-page SEO for service line pages. Look for those in the next few months.
Have a specific question that can't wait? Give us a call at 888.805.9101 or email us. We'd be happy to answer your questions and tell you more about the SEO services we offer.