Hospital SEO basics: Top terms to know
Learning some of the most common SEO terms can help you understand how to improve your hospital website.
March 13, 2020
Jeremy Dietz, Executive Digital Editor
Healthcare marketers often outsource search engine optimization (SEO). That makes good sense. Maintaining expertise in a constantly changing field like SEO requires a lot of time and focus.
But even if you're going to rely on outside experts for your hospital website's SEO, it still pays to understand the basic terms and concepts. This knowledge can help you choose a good SEO vendor and ensure that you can communicate well to your C-suite about what that vendor is doing for you.
SEO terms healthcare marketers should know
Here are some common terms (in alphabetical order) you might hear when you talk to an SEO vendor.
Alt tag (also called alt text or alt attribute)
What it is: A description of an image that's coded into your site's HTML.
Why it matters: Search engines can't see images. Alt text helps them understand what your images are about. Alt tags also help make your site more accessible to assistive technologies, like screen readers.
Anchor text
What it is: The clickable text found in a link.
Why it matters: The text in a link helps Google (and the person clicking the link) understand what the page that the link points to is about. That's true whether the link leads to another page on your site or another website entirely.
Bounce rate
What it is: The percentage of people who enter your site and leave it without viewing any other pages.
Why it matters: A high bounce rate for a page could indicate to search engines that people don't value that page.
Inbound link (also known as a backlink)
What it is: A link from another website to yours.
Why it matters: A link to your site brings in traffic. It also sends a signal to search engines about what kinds of content other sites think is valuable on your website. The quality of the site where the backlink comes from and the anchor text in the link can both impact how much search value the link provides to your site.
Indexed page
What it is: A page on your site that search engines know about.
Why it matters: If a page isn't indexed, it isn't going to show up on a search results list.
Keyword research
What it is: Work done to identify the words and phrases people are searching for that relate to your business.
Why it matters: SEO has evolved a lot in recent years, but keyword research is still important. Understanding the words that people use when searching will help you to write for your audience and to optimize for search engines.
Knowledge graph
What it is: A Google feature that provides answers and information right in the search results. For an example of what this looks like, Google "What is the knowledge graph?" Google has pulled the answer to the question and displayed it at the top of the search results. You won't even need to click to find out the answer to your question.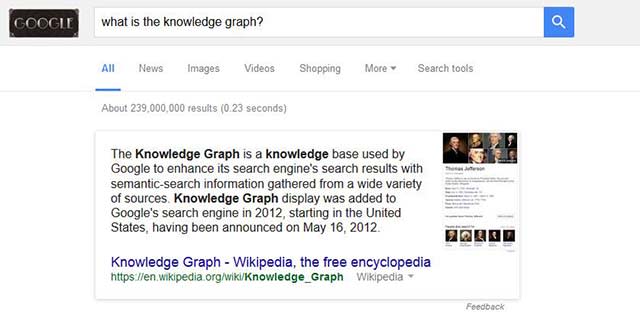 Why it matters: Knowledge graph results have dramatically changed the appearance and function of search engine results pages. If you're trying to rank for a search phrase that has a knowledge graph result—like "How to check blood sugar"—you're going to have a difficult time ranking high enough to get people's attention.
Meta tags
What they are: These are bits of coded text that help search engines understand a page's content. They aren't visible to someone who's looking at a page, but they may be displayed in search engine results. Here are a few to know about:
Title tag. The text that search engines typically display as a link to your site in search results. Browsers may also display this text in their title bar. The text in a page's title tag has a direct impact on how well it ranks for a given search query. Equally important—this text will also influence whether or not someone clicks on your site when it shows up in a search engine results page.
Meta description. This text serves as a brief overview of what the page is about. It doesn't appear on the page itself but may be shown in search engine results underneath the link to the page. Meta descriptions don't have a direct impact on a page's search engine performance, but they can impact whether or not someone clicks through to your site from a search engine results page.

Meta keywords. In the past, this meta tag influenced how well a page ranked, but it was widely abused, and Google doesn't support it any longer. Why mention it? We still run into misconceptions and questions about this obsolete tag. If you're looking to hire someone to do SEO for your hospital website and they mention using this as part of their strategy, move on.
Rank
What it is: Where a page sits in a list of organic results for a given search phrase.
Why it matters: Pages with a higher organic rank are more likely to be seen and clicked on than those that don't rank as high. This is particularly true for searches conducted on mobile devices.
Remember: Ranking is important, but search results can vary depending on factors like a person's device, location and what other pages that person has visited. So, don't make rank the only way you measure the success of your hospital's SEO efforts.
Site map
What it is: A page that links to every accessible page on your website.
Why it matters: A site map can help make your site more user-friendly. It can also make it easier for search engines to crawl the site.
Spider
What it is: A computer program used by search engines to "crawl" the web and index pages.
Why it matters: Any parts of your site that can't be crawled won't appear in search engine results.
Want to learn more? Check out these SEO resources