Hospital website data: 4 Google Analytics reports to know
Run these 4 basic reports monthly to get an idea of how well your hospital's website is performing.
April 24, 2020
Jennifer Garza, Digital Content Analyst, GAIC
How are people finding your hospital's website? What are they doing when they get there?
Answering these kinds of questions has never been easier than it is today, thanks to the data you can get from tools like Google Analytics.
All that data can be overwhelming though, particularly if you're new to Google Analytics.
Fortunately, you don't have to become an expert on the complex inner workings of this tool to quickly pull valuable data about your website and audience.
4 Google Analytics reports healthcare marketers should know
Regularly looking at the following basic Google Analytics reports can give you a good overview of how well your website is working. You should examine the following reports at least monthly.
1. Audience overview
What it shows you: A big picture overview of all the traffic to your hospital's website, including the number of people who visited the site, how many pages those people looked at and how long they stayed on the site. You can also see the number of people who came to your site for the first time compared to the number of return visitors.
Where to find it: You'll see this page first when you log in to your Google Analytics account. To get back to it from another page, click "Audience" in the left column and then "Overview."
Tip: Compare different date ranges to gain more insight about these numbers. Try to keep the date ranges similar though—week to week, month to month, year to year, etc.
Pro tip: To have a report sent to you automatically, click the "Email" link at the top of the report. You can choose to have the data sent daily, weekly, monthly or quarterly.
2. Acquisition overview
What it shows you: Information about how people are finding your website. You can sort this data by criteria such as overall number of sessions, the number of new users from each channel and the bounce rate (how many people visited just one page and then left the site).
Where to find it: Under the "Acquisition" header.
Tip: Click on a traffic source to get more detailed information. For example, click "Social" to see a breakdown of traffic from individual social networks.
3. Behavior overview
What it shows you: What people are doing when they visit your site. From the overview report, you can easily dive deeper into information about which pages people look at and what they search for on your site. This search box data could give you ideas about new content to add or illustrate things that people are having trouble finding in the navigation.
Where to find it: Under the "Behavior" header.
Tip: In the "Behavior" section, click on "Site Content" and then "All Pages" to find information such as how many people viewed a page and how much time they spent on it. It can also be useful to see how many people leave your site from a given page.
4. Mobile
What it shows you: The devices people are using to view your site. If your site isn't mobile-friendly, this data can provide a compelling case for making an upgrade. (Most of our clients are seeing a dramatic increase in mobile traffic each year.)
Where to find it: Under the "Audience" header.
Tip: Look at bounce rates and session duration numbers to get a sense of whether mobile users are finding your site valuable and easy to use. A high bounce rate or a low session duration compared to desktop indicates that your site isn't meeting the needs of people who view it on a mobile device.
2 advanced reports to know about
As you'll quickly see when looking at the basic reports listed above, there's much more you can do with Google Analytics. As one of Coffey's Google Analytics certified team members, I often set up more detailed reports for clients. Here are examples of 2 such reports:
1. Event tracking
You can set up this report to track many things, such as the number of people who watch a video or how many people click on links that take them away from your website. The latter is useful because these clicks aren't automatically tracked.
Note: Event tracking requires advance planning. You can't go back and get data from before the tracking code is added.
2. Demographics
With this report, you can see the average age and gender of the people who visit your site. You can combine this data with other reports to gain valuable marketing insights. For example, you can find out how well a mammogram campaign is working. Is it bringing women to your website, and which social channels are doing the best job at bringing women in?
Note: If you enable this report, you need to add specific wording to your privacy policy to let people know you are tracking this information on your site.
Try this tool!
It's often helpful to see analytics data right on the web page that you're interested in learning more about. Fortunately, there's a free Chrome extension called Page Analytics (by Google) that will let you do just that.
Once you've installed the extension, you can open your site in Chrome and go through it page by page and see things like which links people are clicking on and how much time they're spending on each page. You can even see how many people are looking at a page right at that moment!
Here's a screenshot of the extension in use on the Coffey website: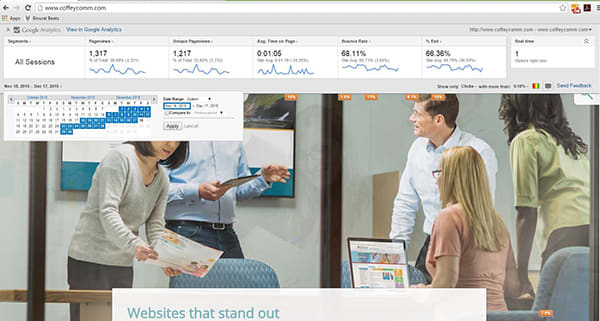 Need help with Google Analytics?
We'd be happy to talk about how our team can help you use data to improve the performance of your website. We'd also love to show you how our CMS makes tracking data a snap. Give us a call at 888.805.9101 or email us.