How to earn featured snippets for healthcare SEO
Make sure your hard work in healthcare SEO work gets noticed. Find out what featured snippets are and how you can get one.
June 11, 2020
Molly Phillips, Digital Content Specialist
It's good to be on top, especially when you're in charge of a healthcare SEO project. The closer you can be to the top of a Google search results page, the more likely you are to earn a reader's attention (and click).
At one point, being on top meant appearing in the top organic search position. Now, the rules have changed. Being on top now means showing up before any organic results appear.
How do you get to this most coveted "position zero?" Through featured snippets.
Featured snippets can be hard to earn—and once you have one, holding onto it can be tough too. But with a little work, it's possible. Here's what you need to know.
What's a featured snippet?
As we mentioned, featured snippets appear at the top of the search results page. They're also designed to stand apart and grab your attention. Snippets appear in an answer box, and they sometimes come with colorful artwork.
There are a few different ways that Google presents featured snippets, but for our purposes, we'll focus on the most common—paragraph snippets. Here's an example: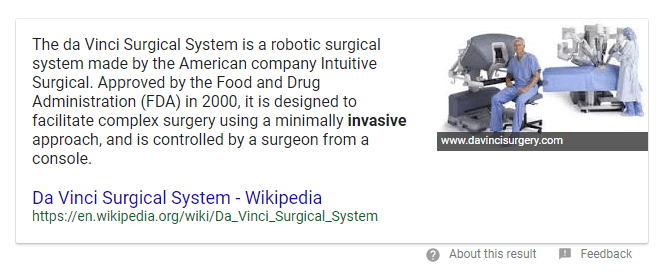 Featured snippets are designed to answer a question triggered by a search. But notice the links. If the answer provides some information, but not everything a reader wants to know, readers will be compelled to click on that link—which heads to the page that holds that snippet.
Why are featured snippets important?
That link beneath the snippet holds the golden healthcare SEO opportunity. By earning your spot in the answer box, you're elevating your link. And it's likely you'll earn more clicks than you would if your link was lower on the page—and if the link didn't come with so much visual pizzazz.
In addition, earning a featured snippet gives you better brand awareness and makes your organization sound like an authority. That's a benefit that may be hard to measure, but it's certainly important.
What's the likelihood of earning a snippet?
Nothing good comes easy, right? The same could be said of featured snippets. According to an Ahrefs study, over 99 percent of featured snippets belong to pages that already appear in the top 10 search results. And the site with the most featured snippets is Wikipedia.
If you're not already ranking, and if you're not Wikipedia, then gaining a snippet will be a bit difficult. But that doesn't mean you shouldn't optimize your content for the best results possible. After all, you're in healthcare. As we learned in a SHSMD session run by Google last year, one in 20 Google searches are healthcare related. Health is a popular Google topic, and that means Google is looking for health content. It pays to try to get noticed.
How can I get my own snippet?
Your service line pages and blog pages offer some great featured snippet opportunities, if you craft those pages with Google in mind. Here are some helpful tips to get you started:
Step 1: Do your keyword research.
We've talked about healthcare keywords on this blog before (in a post that earned us a featured snippet, by the way). Starting with keyword work is always wise. But the work you'll do when you're targeting snippets is a little different.
Begin with competitor research. Are your competitors earning any snippets? If they are, look at the featured page and see if you can mirror the structure while improving the message.
Then look over the keywords you're already ranking for. Are any of those keywords triggering featured snippets?
This research will help you determine your keyword target. And here's where the real fun begins.
Step 2: Think like Google.
Once you've chosen a keyword target, hit that search box. Find out what content pops up in the featured spot—and what shows up below.
If you don't see any snippet at all, ask similar questions and see what shows up in the results box. You might find a pattern in terms of writing tone and style that you should mimic.
Step 3: Identify your nugget and optimize.
Snippets are typically very succinct and straightforward. Figure out what part of your page will appear in the snippet box, and work furiously on that paragraph. The average length of snippets is between forty and fifty words. Stick to that length, if you can, in the section you think will show up in the paragraph snippets box.
Step 4: Follow healthcare SEO best practices.
Look over the entire page and break up your content with headers (H1, H2, H3, etc.) The keyword you're attempting to rank for should be within one of the headers. That special coding helps the Google crawlers to move through your page quickly.
Bonus tip: Look for ways to address more than one question on your page. If you play your cards right, there's potential for that one page to earn multiple snippets.
Step 5: Create quality content.
Last but certainly not least, Google likes quality content. So don't try and game its system at the expense of your readers. It won't pay off. Instead, focus on creating the most helpful and educational content you can. Google will notice and so will your patients.
Put it into practice
Featured snippets can—and do—come from new pages created with healthcare SEO best practices in mind. But snippets can also come from content you already have on your website—with a few revisions. At Coffey Communications, our SEO team can help you with content creation and content revisions, so you can get the most out of your website. Contact us for more information or to set up a demonstration. We'd love to talk with you!