Ready to redesign? Get inspired by the best medical websites
Learn how these 6 organizations solved their website issues.
July 1, 2020
Jennifer Garza, Digital Content Analyst, GAIC
Joshua Pease, Web Designer/Developer
If you're a healthcare marketer, then you know how tough it is to put together the perfect website. In addition to keeping the voice and visuals on-brand, a great healthcare website needs to be fast; user-friendly; optimized for search; and, lest we forget, accessible.
If you're looking to improve your website in any or all of the above areas, it can help to see examples of great sites from other healthcare organizations. Here are some of the best medical websites from all over the country that you can use as inspiration for your next redesign.
6 of the top healthcare websites
Emanate Health
Formerly known as Citrus Valley Health Partners, Emanate Health launched their new website after having gone through an extensive rebrand. In addition to showcasing the new brand, they wanted the new site to make their services, locations and providers easier for their community members to find online.
Here are some of the key features of the new site:
Smart search. The website's user-friendly search feature matches keywords with related providers, services and locations. Visitors need only begin typing into the search bar to see all relevant results in the dropdown field. This new search feature saves time and greatly improves the user-experience.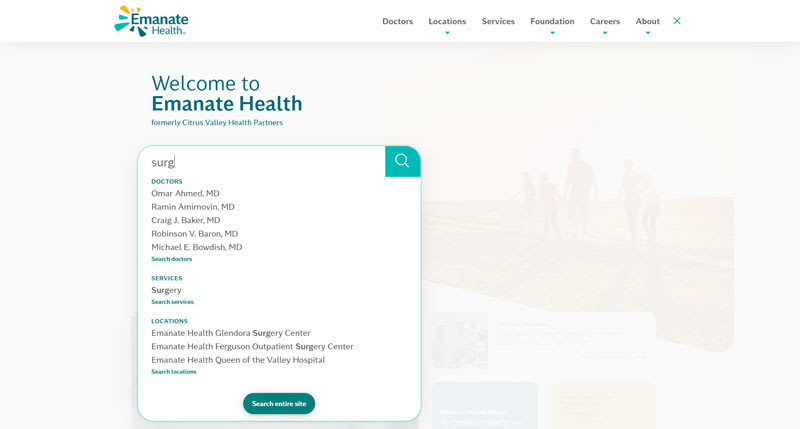 Seamlessly connected services and locations. Emanate Health is a growing system that offers services at multiple locations. Making it easy for people to know where they can access a service was an important goal for the new site. The site accomplishes this in a couple of ways.
On the main services page, each service has a content card that includes information about the number of locations where the service is offered.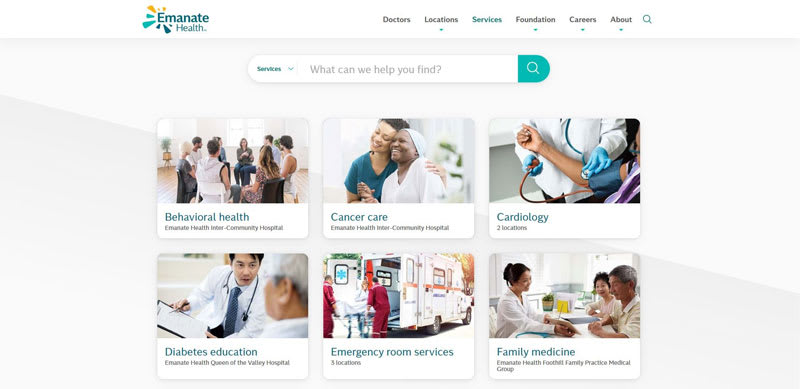 Once someone is on a service page, they can view locations and easily find the one closest to them.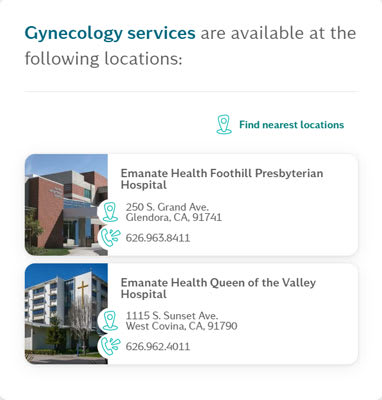 An easy-to-use provider directory. With approximately 580 providers, Emanate Health needed a provider directory with strong filtering and keyword recognition capabilities.
The new website's provider directory lets people quickly refine their search and match keywords with provider specialties. Filtering options continue to display alongside search results so that visitors can continue refining their search as needed.
In order to make the next step easy, a "Request an appointment" button is displayed next to each provider in the results field.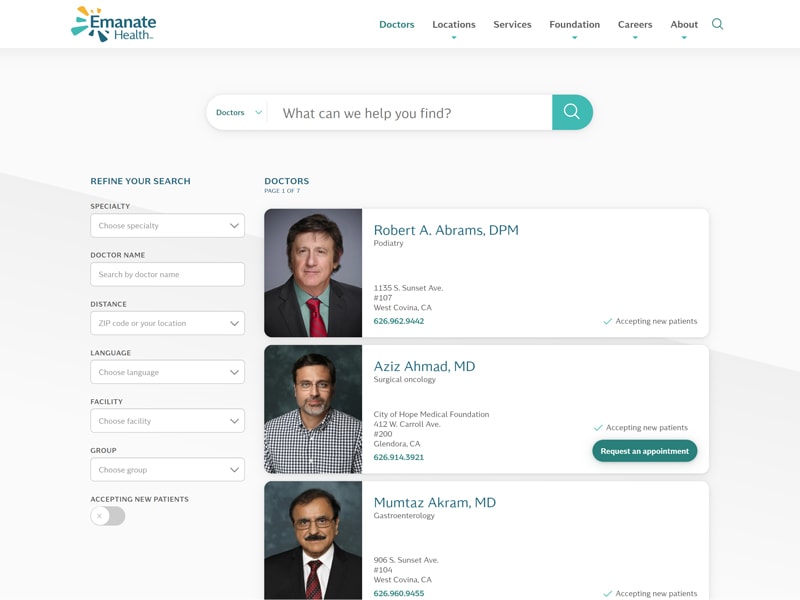 Iredell Health System
Iredell Health System seeks to guide their neighbors to optimal health and well-being. With 34 locations, they are a prominent source of healthcare services and employment for their neighboring communities.
But with so many facilities, services and career opportunities, they found it challenging to direct people toward the right content on the previous website. To remedy that, Iredell redesigned the site with a focus on meeting user intent.
Noteworthy features of the new site include:
A focus on key user groups. One of the main goals for Iredell's new site was to quickly surface relevant content to their four main groups—patients, visitors, job seekers and new residents.
The new site includes a series of quick links that surface relevant content depending on the user group someone selects. This new feature makes their highest trafficked pages easier to find and streamlines the user experience on the site.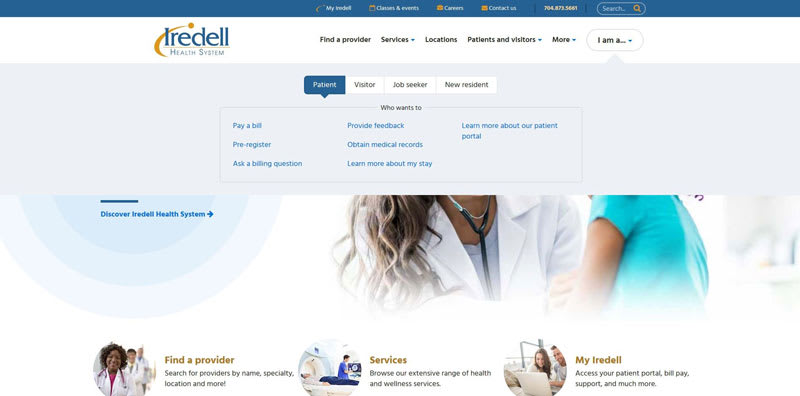 Simplified search. The team at Iredell found that their previous site's search field wasn't as intuitive as they wanted it to be for everyday people.
The old search feature had limited keyword recognition associated with their service lines. This caused a frustrating disconnect for people who wanted to find a heart doctor but needed to type "cardiologist" in order to do so.
The new site solves this problem using in-depth synonym tagging for each service line. Now, site visitors don't have to talk like a doctor in order to find the care they need.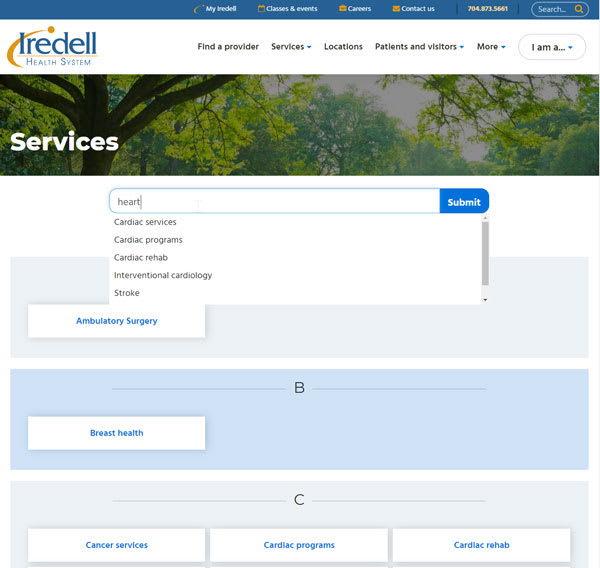 CarolinaEast Health System
CarolinaEast Health System is home to a growing number of hospitals, clinics and specialty centers. For their latest redesign, it was important that they make their various locations and services easy for people to find.
Notable features of the new website include:
An engaging homepage design. CarolinaEast Health System has many services and new technologies they want to promote on their homepage. Their new homepage has an eye-catching card grid that highlights news releases, service lines and locations. The grid is regularly updated, which helps keeps their content fresh and highlights more of what the health system has to offer.
Filtered locations map. With more than 26 location results, CarolinaEast placed high importance on their locations mapping feature. The new site features a map that is filterable by location type, service, city and proximity, making it easy for people to quickly find the facility they need.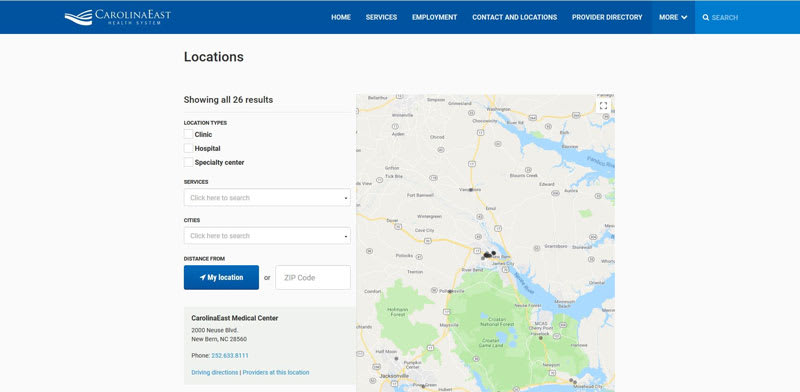 Search-optimized content. Before their redesign, CarolinaEast performed well in search results for their brand name. But they struggled to surface on search engines for nonbranded searches related to their service lines.
For the new site, service line pages were rewritten or edited based on in-depth keyword research and search engine optimization (SEO) best practices. The resulting service content is not only easy to read and understand—it's also helping the health system reach people in their community who are searching for healthcare services.
Memorial Hospital of Converse County
Memorial Hospital of Converse County knows that healthcare is all about people—both the people they serve and the employees who provide the services. Their new site is a prime example of the difference featuring your people can make.
Some notable features of the site include:
A provider-focused homepage. To better promote their providers, Memorial Hospital added a provider section to their homepage that allows them to rotate departments and providers.
Provider pictures show team members in casual clothing (no scrubs or white coats), which helps them come across as approachable.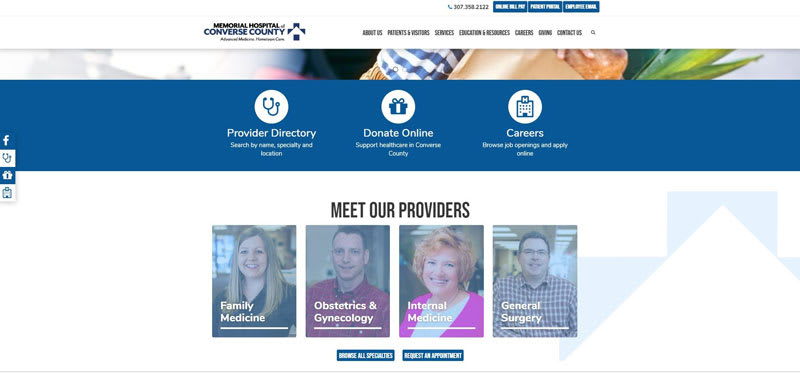 A thriving blog. Memorial Hospital is a model for hospital blogging done right. Frequent updates, quality images and a variety of local and health-related content are just a few of the reasons for the blog's success.
The blog is also featured on the homepage and across other areas of their website, giving people multiple entry points to the content.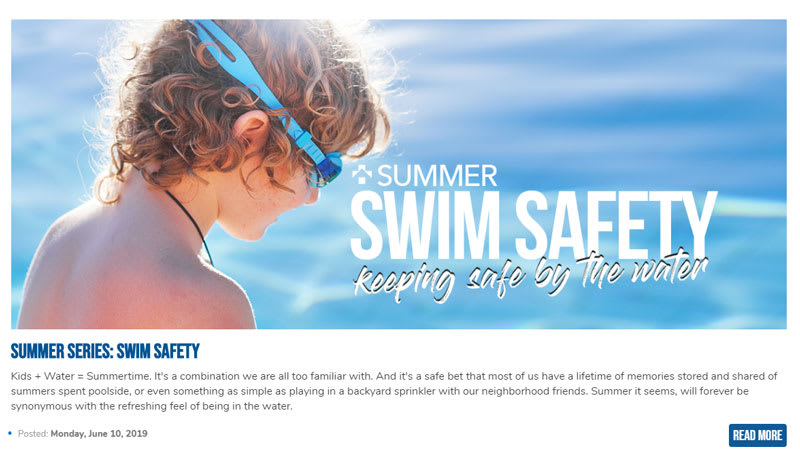 Harbor View Medical Services
Harbor View Medical Services is a group of medical practices that offers a wide range of health services. As their number of practices grew, Harbor View Medical Services saw a need to make the association of their various locations more obvious.
Here are some of the ways the new website addressed their needs:
Thoughtful branding. Harbor View is located on Long Island, and their visual brand elements draw on their proximity to the coast and the community's historical ties to shipbuilders.
The result is a familiar through line on the site that local community members can identify with.
Prominently featured locations. Without one central hospital to anchor the medical practices, Harbor View Medical Services wanted their various locations featured prominently. Featuring the locations map on the homepage makes it easy for site visitors to see the various practices and locations.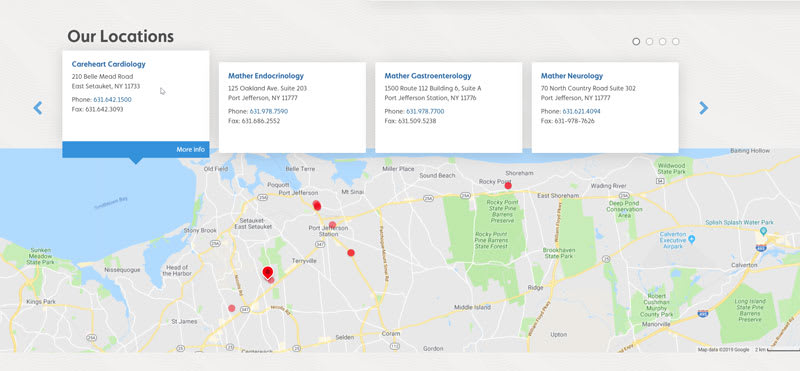 Value-driven content. Prior to their redesign, Harbor View's service line pages featured general health information. This content was rewritten to focus on the organization and the unique value their team and facilities offer the community. This approach is not only helpful from an SEO perspective, it also makes sure that every person who reads the content understands the value that Harbor View provides and why they should trust this organization with their health.
Scheurer Hospital
Scheurer Hospital wanted patients to feel more connected to their healthcare. With that in mind, the organization took steps during their redesign to make content feel more personalized and relatable.
The new site included the following features:
A patient-centered homepage. The new website includes a content section on the homepage called "Your health at a glance." This section lets site visitors easily view the newest content updates from Scheurer as well as access the patient portal, the Scheurer4Life app and the interactive health library.
Nearly all of the content in this new section includes the second-person "you" and "your" pronouns. This helps give people the impression that this is curated content made especially for them.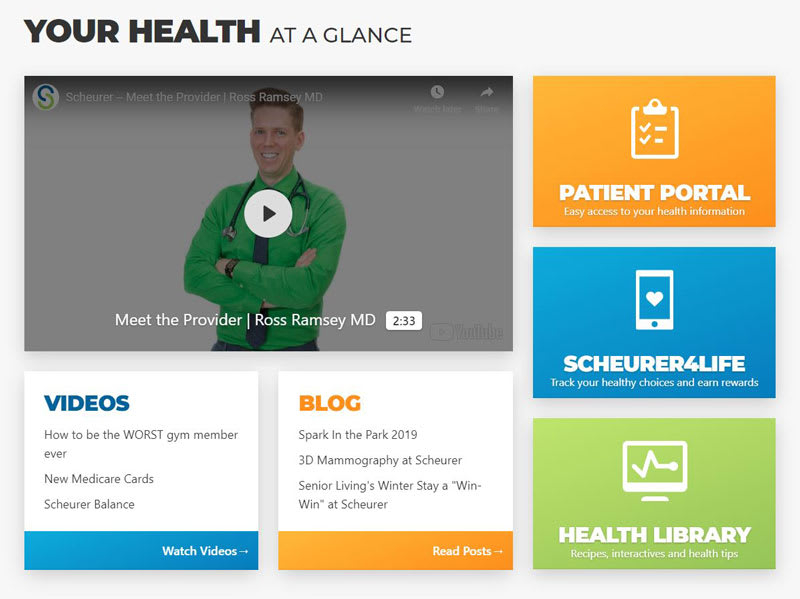 Helpful vlog content. In an effort to make their blog "A Scheurer Thing" feel more relatable, Scheurer chose a content management system (CMS) that let them easily add video blogs—better known as vlogs.
Scheurer's vlog content covers everything from physical therapy tips to provider spotlights and event coverage. Their vlogs give patients more insight to Scheurer's employees and services, which helps deepen the connection they feel with their local hospital.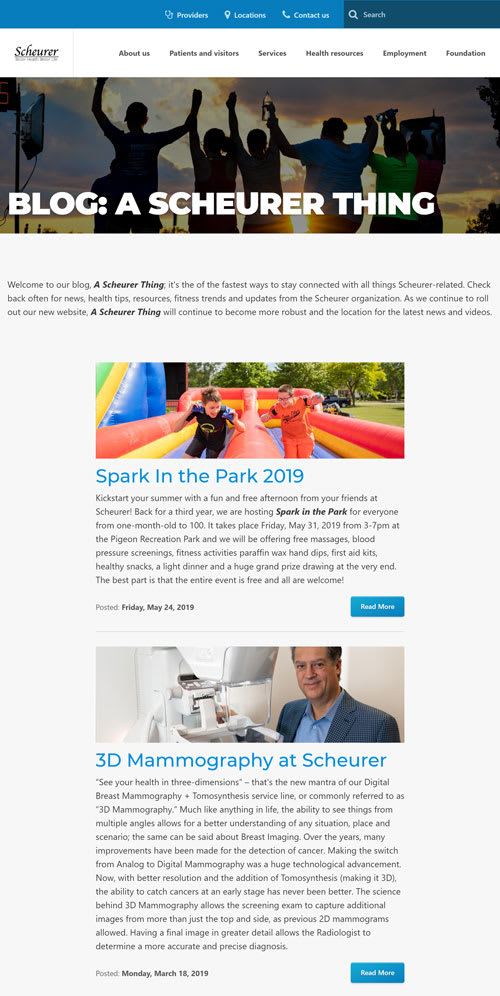 Need help with your website?
If you're interested in any of the design, user experience or content capabilities discussed above, we can help. Email or call us at 888.805.9101 to discuss your next website redesign.