Secrets of successful healthcare website landing pages
A good healthcare landing page can mean the difference between conversion and confusion.
January 20, 2020
John Allison, Web Designer/Front-End Developer
Molly Phillips, Digital Content Specialist
Behind every great digital marketing campaign is an even better landing page. A good healthcare landing page can help your organization by driving conversions.
Depending on your goals, a conversion might be scheduling an appointment, registering for a seminar or class, or enrolling in your health plan.
To help you accomplish those goals, we're sharing the secrets of successful healthcare landing pages. Hint: It's all about your design and content.
What is a landing page?
A landing page can be any webpage that someone comes to after clicking on an online marketing call to action (CTA).
Visitors to your site could reach your landing page from a variety of sources. You may have your marketing campaign set up so that they land there via:
Organic search. The link to your landing page appeared within the list of organic (unpaid) results from a Google or Bing search.
Paid search campaigns. You used the link to your landing page in a pay-per-click (PPC) campaign in search.
A social post. You shared the link to your landing page in your organization's Facebook, Twitter or LinkedIn feed.
Direct mail. You tied your direct mail and digital marketing together and included your landing page's URL in your custom healthcare magazine.
4 elements of a healthcare landing page
For our purposes, we'll look at Cape Regional's orthopedics campaign that directed visitors toward an online form. In this instance, a conversion occurs when visitors to this landing page submit their information to request an appointment.
1. A clear and compelling headline and subheading
You want a clear headline and subheading that expresses your service's value statement.

(Source: Cape Regional)
Remember: Most online consumers are impatient. They'll leave your landing page within seconds of arrival if its most visible content doesn't align with the messaging they saw in their entry point. So be intentional with your messaging on every channel.
2. Concise content placed above the fold
People should be able to understand your landing page's purpose in 5 seconds. To make that possible, place your most valuable content "above the fold." That means users don't have to scroll to catch the gist.
You might also consider putting any content outside of your headline and subheading in bullet points to make your value propositions easy to scan.
3. A hero image that aligns with your topic
Choose a visual that's engaging, and make sure it ties into your content.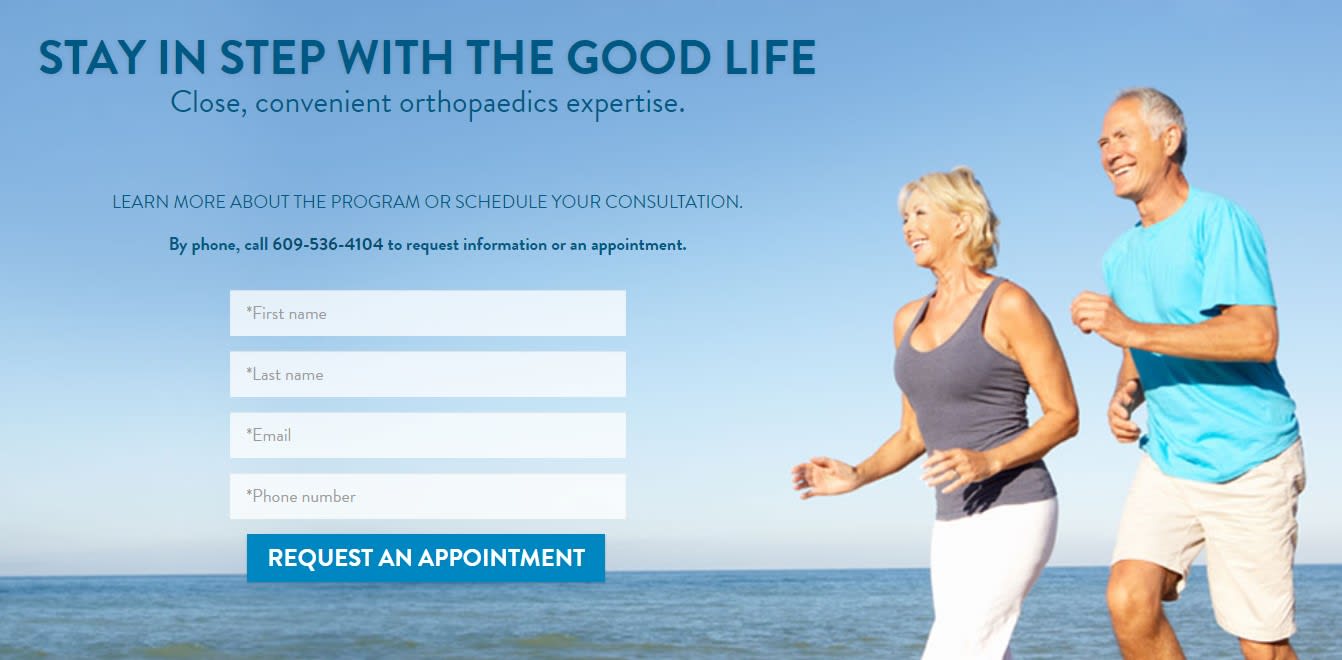 (Source: Cape Regional)
4. Include an eye-catching CTA
Every healthcare landing page needs a clear next step for users to take. That's where the importance of your CTA comes into play. CTAs should be easy to find, understand and interact with. Place your CTA above the fold (unless your offer requires a detailed explanation).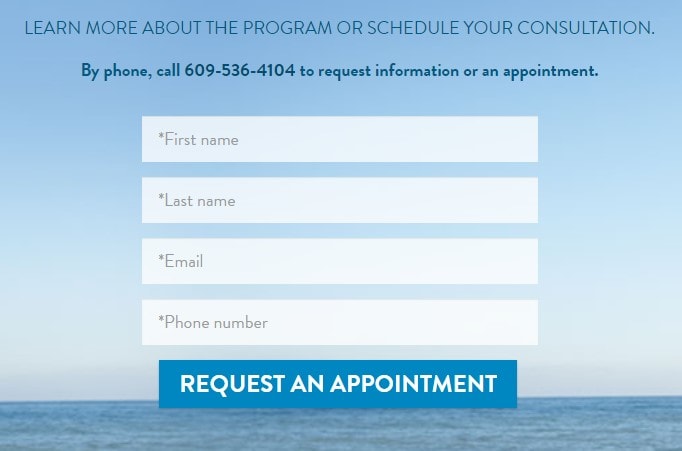 (Source: Cape Regional)
In our current example, the CTA for completing Cape Regional's online form is the "Request an Appointment" button.
Ensure that your CTA is eye-catching. It should be:
Large.
Contrasting (it stands out from the surrounding design and is often a bright color).
Obviously clickable.
Work with design experts
If your marketing team is strapped for time, Coffey's digital team can help you build successful landing pages for your campaigns.
Our web designers and content creators are experts in making healthcare landing pages that increase conversion rates. Call 888.805.9101 or email us to learn how we can help you reach your marketing goals.