The Planning Pyramid: Build better hospital magazines and newsletters
Download our visual guide to help you plan an engaging and useful hospital magazine or newsletter.
The Coffey Team
"A goal without a plan is just a wish." —Antoine de Saint-Exupéry
Good planning. When it comes to your healthcare magazine or newsletter, don't proceed without it.
To help our clients create effective and strategic publications, Coffey has developed a tool: the Planning Pyramid.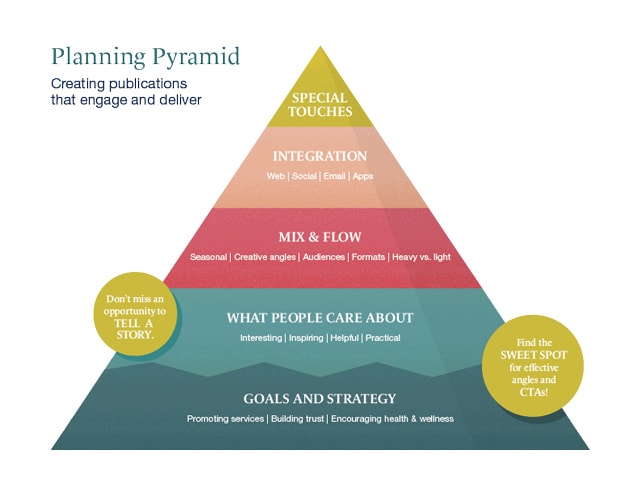 Download the Planning Pyramid PDF.
Take your healthcare content to new heights
Read on to learn how this helpful device can make for strong and stellar pieces. You can also download it to inspire your next planning session.

Build a strong foundation
You have services to promote. Goals to reach. Bosses to please. But it pays to remember this: Your hospital magazine or newsletter can't be an effective healthcare marketing tool without engaging your audience.
That's where the base of the pyramid comes in. It's where your goals and strategy meet what people care about. That means thoughtfully—and persistently—planning your most important content around what readers will find valuable.
For example, let's take joint replacement surgery. Here are some ideas for consumer-friendly angles that find that sweet spot where promotion meets public interest:
Tell a patient story. Your readers are interested in real people. A success story about a life changed by a new knee or hip is a powerful way to inspire—while promoting and building trust in your services and surgeons.
Ease fears. Share how surgical advances make joint replacements less invasive and less painful and offer quicker recoveries.
Be helpful. Answer practical questions about recovering from joint surgery. Or offer a step-by-step guide for planning for joint surgery.
Explain the risks of waiting. Some people may not understand that delaying surgery may lead to greater joint damage and more complicated treatments down the road. This will be valuable information and motivation to certain readers.

Be deliberate with the mix and flow
Putting together a single issue is kind of like planning a menu. You want an appealing blend that offers both substance and flavor.
Elements worth considering in the mix:
Seasonal stories: This timely content is immediately relevant to readers.
Varied angles: You don't want your publication to read like a generic, dry service-line catalog. Come up with creative and novel ways to engage readers on some of the same old topics.
Audience-specific content: Who you target should depend on your specific goals. We know women make the majority of healthcare decisions in households, so writing and angling content for them often makes good sense.
Alternative formats: Are you stuck in a story-plus-a-sidebar rut? Mix it up with creative options such as infographics, image-based articles, charts and quizzes.
A blend of heavy and light topics: Covering serious health conditions and treatments may be a goal. But does your content mix sound like the "Pain and Suffering" issue? Again, think of your readers. Add in a little lightness and cheer with some consumer-friendly wellness content, such as a recipe or fun health tips.
On the other extreme, you don't want an issue that's all fluff with nothing substantial, new or interesting. That might make your magazine or newsletter too easy to dismiss. So keep that in mind too.
In addition, here are a few tips for adjusting the flow to gain and keep readers' attention:
Front-load. Put the most engaging content up front in your issue.
Group related or similar content. Tying ideas together can make your publication more cohesive and help readers better absorb the information. For example, multiple stories on heart health could make a great spread. And promos for new services or technologies could be grouped together on an innovation-themed page.
Bury the boring. Maybe there's something you need to run for organizational reasons. If it's not particularly important to readers, put it in an out-of-the-way place. Use more eye-catching locations and design efforts to highlight your more interesting content.

Add elements of integration
With coordinated content and strong calls to action, your publication can become a springboard to launch your print readers to your website or other channels.

Top it off with special touches
Sweet little elements can delight and set your magazine or newsletter apart—like the cherry on top. Just a few quick examples: fun facts, clever headline treatments, inspirational quotes and pet-themed tidbits. (People love their furry friends!)
Ready to build a monumental magazine?
Coffey's team of healthcare content experts can help you construct—from the ground up—an engaging healthcare magazine or newsletter. Check out our print work to see examples of how we've helped clients reach healthcare consumers and promote their brands. Contact us to learn more about all Coffey can do for you.