Why are Core Web Vitals important?
What you should know about these metrics and how they can affect your website.
December 6, 2021
The Coffey Team
Earlier this year, Google added Core Web Vitals to their search ranking algorithm, changing how it ranks webpages. This set of user-focused metrics is designed to measure the health of a webpage in terms of providing a seamless user experience.
Core Web Vitals metrics are made up of three components: loading speed, interactivity and visual stability. Why are Core Web Vitals important to your organization? Because in addition to original and relevant content, Google now also evaluates website performance based on how well users interact with your website.
Core Web Vitals explained
Let's take a look at the three Core Web Vitals that will assess a website's user experience score.
Content loading speed/Largest Contentful Paint (LCP): Google looks at how fast the main visible content loads. To meet user experience standards set by Google, an individual page's content must load in less than 2.5 seconds. When visitors can access your content faster, the chances of them staying on the page or interacting with your content increases.
Interactivity/First Input Delay (FID): This measures the time it takes for a visitor to swiftly interact with your page through interactions, such as clicking a link, completing a form or choosing a menu item in a dropdown. For content-rich pages such as blogs where there is little interaction, this metric is not a large concern. But for pages that require interaction, it could be the difference between capturing a conversion or a bounce.
Visual stability/Cumulative Layout Shift (CLS): This metric measures a website's page stability while it loads. This is a concern if the text, buttons and images on your page move around as the page loads. Optimizing this for Core Web Vitals enhances the user's experience and improves your search engine optimization performance.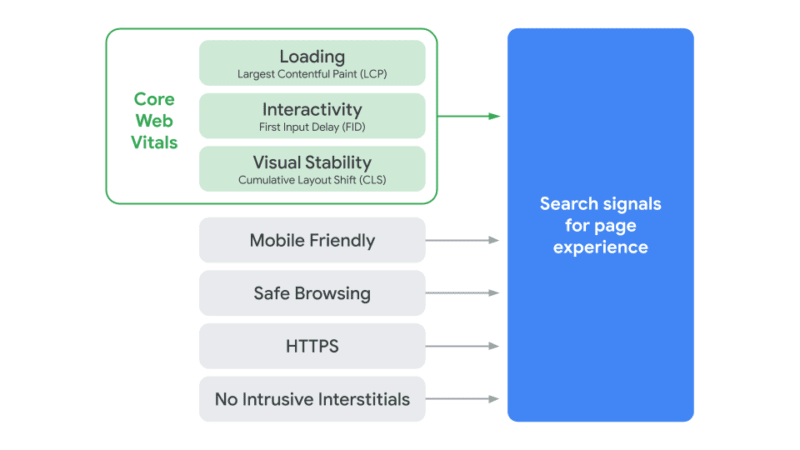 Source: https://developers.google.com/search/blog/2020/11/timing-for-page-experience
Common website features that hurt Core Web Vitals scores
There may be features on your website that are important but that have a negative impact on Core Web Vitals scores. It's important to weigh the benefits of these features against their impact on site performance.
Examples include:
Third-party tracking tags, such as Google Analytics, Facebook Pixels or CrazyEgg. Tracking tags can be an essential part of measuring the success of your marketing efforts. While having a few of these tags doesn't usually have a significant effect on performance, putting too many tags on a site can slow it down.
Chatbots. While these tools can help engage healthcare consumers, they also call their own scripts and add to the overall page load time.
Video embeds. YouTube and other video hosting platforms load a lot of external code, even when the video isn't being watched. Having multiple videos on the page will decrease the page load speed.
Popups. Popups (also known as interstitials) can negatively affect visual stability by causing the page to unexpectedly shift/change while loading.
How Coffey addresses Core Web Vitals
Coffey designs and builds websites following best practices for user experience. At a base level, the homepage of a website with our modules, but with no extra features, gets a score of 94 from Google's Page Speed Insights.
Here are some of the things we're actively doing to ensure a great user experience:
Continually improving our content management system and its modules.
Using image and video management tools to host rich media, which allows it to load faster.
Packaging and minifying CSS and Javascript assets to reduce file sizes and the number of HTTP requests per page load. Only the scripts and styles necessary for a page are loaded.
Assessing site speed prior to go-live to ensure that the site is performing optimally.
Regularly evaluating Core Web Vitals performance after go-live.
We are here to help
We know this can feel like a lot to remember, but we are here to do the heavy lifting for you. Healthcare consumers expect your website to function quickly and seamlessly. We use technology and best practices to build and design your site to provide fast loading and user friendly consumer experiences. Let's have a conversation about your website and determine where you rank against Core Web Vitals. Contact us by email or call 888.805.9101, or visit our scheduling system to select a time convenient to you for a no-commitment discussion.