Content development
The healthcare industry moves at a rapid pace, requiring your content to keep up. But busy marketers with competing priorities don't always have the time or resources for thoughtful and strategic content planning. To reach your marketing goals, you need to provide readers with high-quality content. That's where you can count on us.
At Coffey, we understand the importance of compelling healthcare content. In a world where consumers wonder if they can trust what they read, health information must be relevant, accurate and well-sourced. Content also needs to be engaging. For today's audience, that means simple, easily digestible and presented in an engaging format that works well on mobile devices.
Our team of healthcare content creators craft compelling stories that align with business goals and the healthcare consumers' needs. Our staff includes experts in health literacy, design, search engine optimization (SEO) and social media.
Coffey's content helps you target your search engine optimization (SEO), create successful pay-per-click campaigns, drive inbound traffic and leads, and give your brand an identity that people can align with. We create content that empowers patients to take action. Our content helps to:
Meet people where they are in their personal health journey.
Serve up information that's relevant, timely and valuable.
Move people toward a desired outcome.
Interactive Digital Health Content We offer access to thousands of articles, tools and infographics, which are each unique in their approach to communicating important health information. Every piece of content we generate is subject to the strictest standards of quality and is thoroughly checked and routinely updated by our editorial team. We maintain the content over time so you don't have to.
Custom content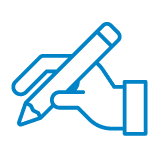 Coffey will meet your content needs with custom content, created with health literacy in mind. When we create custom content, we can produce versions for each of your distribution channels, saving you both time and money. Using digital keyword research data and information gathered from your stakeholders, we will craft compelling content that engages consumers, answers their questions and gives them next steps to take.
We have worked with Coffey Communications for more than 12 years. As our efforts have grown and changed over the years, Coffey has been there with the innovative tools and customer support we needed to grow.
—Grand Ronde Hospital and Clinics
Content strategy and analysis
A solid content strategy helps you improve results and return on investment by defining your goals, identifying key performance indicators (KPIs) and determining how the content you create will provide value.
Content becomes out-of-date as your staff and services evolve, and best practices for things like search engine optimization change regularly. A content assessment, done by an organization that specializes in healthcare, can provide valuable perspective on site performance, as well as ideas for improvement.
Coffey provides content analysis to assure your content is valuable, relevant and consistent to attract and retain your healthcare consumer, and, ultimately, to inspire action. Ensuring your content is well-structured and easily found contributes to a positive user experience.
Coffey will look for opportunities to remove content that is no longer necessary, current, or valuable to improve usability and make the site easier to maintain. If necessary, we will restructure content to make it easier for the healthcare consumer to find the information they need by removing duplicate pages and outdated content and creating a structure that is based on how consumers look for healthcare information.
What you can expect from Coffey
Content audits.
Interactive assessments and infographics.
Custom writing and editing.
SEO
Interviews with your subject matter expert (SME).
Translation services.
Ready-to-use libraries.
Social media integration.
E-newsletters.
HON code-certified content.