Compelling content is the foundation of any successful healthcare marketing plan. And it's at the core of everything we do.
When you partner with Coffey, you'll get custom content written exclusively for your organization that provides useful, actionable information to inspire people to improve their health and convert from consumer to patient.
Our custom content is created using health literacy and SEO best practices. We can produce versions for each of your distribution channels, saving you both time and money.
Our team not only creates exclusive content, we do everything from securing and conducting interviews with medical experts and writing articles of all types to editing, fact checking and finalizing copy for layout. Our custom content includes articles, interactive tools, images and more.
Content services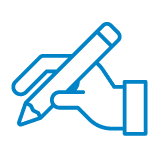 Coffey creates service line pages that provide value to your organization by focusing on what makes you stand out from your competitors. Our strong calls to action turn website visitors into patients. 
We understand healthcare, so our content is easily digestible and written in plain language, not jargon. Our expert writers know how to get a great story and can interview your providers to get the content you need. 
The service line content services at Coffey include editorial planning and strategy, custom writing, proofreading, editing, consulting, and translation. If your content is not leading to conversions, let's talk about how Coffey's content can engage your consumers.
Service line content
Your service line pages are some of the most valuable healthcare content on your hospital's website. Compelling service line content can help your healthcare consumers make a decision about where to go for their medical needs.
Coffey's service line content leverages multiple touchpoints throughout the patient journey to promote key service lines, such as bariatrics, behavioral health, cardiology, oncology, orthopedics and primary care. 
Translation services
For your consumers who do not speak English, Coffey works with two different, highly-dependable translation services so you can reach your audience in many different languages.
The Coffey team has years of experience producing different versions of content for the different demographics you serve.
All Coffey products avoid stereotypes based on ethnicity, gender, age, disability or profession. We have an ongoing program of cultural sensitivity awareness within Coffey to ensure that our writers, editors and designers produce content that reflects the cultural nuances of our society.  
Coffey can translate content into more than 120 languages. We'll help you meet your many communication needs, no matter the language.