Service line content
Service line marketing involves leveraging multiple online touchpoints throughout the patient journey to promote key service lines, such as bariatrics, behavioral health, cardiology, oncology, orthopedics and primary care. 
Your service line pages are some of the most valuable healthcare content on your hospital's website. Compelling service line content can help your healthcare consumers make a decision about where to go for their medical needs.
Content services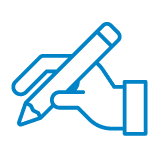 Coffey creates service line pages that provide value to your organization by focusing on what makes your organization stand out from your competitors. We offer clear calls to action to turn website visitors into patients. 
We understand healthcare, so our content is created using health literacy best practices. Our content is easily digestible and written in plain language, not jargon. 
Our expert writers know how to get a great story and can interview your providers to get the content you need. We understand medical terms and can translate difficult healthcare information into content your readers will understand. 
The service line content services at Coffey include editorial planning and strategy, custom writing, proofreading, editing, consulting, and translation.
Organic search
Service line pages can be a strong source of organic traffic for your hospital's website. You should have a local SEO strategy that is reviewed annually to ensure that your service line pages are ranking with people who are searching for you.
For more information, visit our page on Healthcare SEO.
What could your website be doing for your key service lines?
Coffey's team of healthcare content experts can work with your marketing staff and interview stakeholders, conduct SEO research, and create service line content that engages your community and helps you reach your healthcare marketing goals.