University Health has a long history of providing exceptional healthcare services to Kansas City, Mo. and the surrounding communities. But their location-first digital approach, with content spread across six separate websites, wasn't effectively communicating all that they offered. They knew it was time to move to a system-first strategy that would give healthcare consumers one source of information about the organization's impressive array of services, providers, locations and academic medicine offerings.
Learn how partnering with Coffey Communications helped University Health create a website that meets consumer needs, is easy to update and allows them to move forward with a cohesive marketing strategy for their health system.
Key challenges
Six different websites, each with unique design, branding and user experience.
Duplicate and competing content.
Desire for more immediate control—to make a website update, the University Health team had to go through an outside vendor.
Challenges with managing locations and making it clear which services each one offered.
Access to the data needed to make strategic decisions.
Helping people understand both their high-quality academic medicine offerings and their commitment to the community as an essential hospital, encapsulated in their tagline: "Brightest Minds. Biggest Hearts."
Solution: A consensus-building approach to design
University Health's stakeholders had a wide variety of goals. The new website needed a design that would showcase the locations that wouldn't have their own websites any longer. It also needed to support the organization's dual mission as an academic medical center and an essential hospital.
Coffey's design team took a phased approach intended to build consensus and get early buy-in from stakeholders.
Rather than jumping straight to design prototypes, we started by presenting stylescapes to help set an overall direction for the look and feel of the site. Next we created wireframes and then, finally, design prototypes. At each stage, the University Health team and their brand advisors gave input and direction. This collaborative and phased approach allowed many stakeholders to be involved without holding up the overall timeline for the project.
The final design includes a color palette that conveys professionalism, quality and confidence. Photography features local staff and facilities along with images that reflect the diversity of the community.
Solution: Connecting services and locations
University Health's previous digital approach required healthcare consumers to know where a service was located to find the appropriate website. It was important for the new website to pivot to a system-first approach that would help people easily understand all the locations where they could get a particular service.
Following an on-site visit where the Coffey team was able to tour several locations and meet with key stakeholders, we recommended several strategies and technologies that would clearly connect services and locations throughout the system.
The new website prominently features Coffey's smart search functionality, which automatically surfaces locations, services and providers as someone types.
Consumers can sort locations by type, city or services offered—or filter to display locations that are closest to them.
The top of each service page includes links to related locations.
Coffey created service-line content that gives consumers context so they can easily understand if they should choose a service location based on proximity alone or if there are other factors they may want to consider.
Solution: Website migration
Taking six websites and moving them to one domain is not a simple task. It's important to consider many factors, including user experience and search engine optimization (SEO).
Coffey's team started with an audit and inventory of all the existing web content and produced a site map that scaled it all onto one user-friendly website.
We also set up hundreds of redirects that point old pages to the appropriate areas on the new website. This ensures that search engines understand that the old websites have moved to a new domain. It also keeps links to the old domains from breaking if there's a new location for the content.
Solution: Content creation and SEO
University Health's previous digital strategy resulted in duplicate service line content across their various websites. These pages competed against each other in search and presented an incomplete picture of what the system offered as a whole.
For the new website, Coffey's team rewrote nearly all of the services content. The content creation process involved keyword research that identified the search terms people in the Kansas City, Missouri, area use when looking for healthcare services.
Coffey also conducted more than 70 interviews with service line leaders, physicians and other stakeholders. Our writers used the interview materials and keyword research to create new content that would provide answers to the questions people search for and help them understand why they should choose University Health.
Solution: Provider directory management
University Health has more than 500 providers and 70 locations. What they needed with the new website was a comprehensive directory that people could use to find the right doctor at the right location.
In addition, provider profiles often used location names that needed to be updated. Coffey collaborated closely with University Health's staff to ensure that the provider data was up-to-date and that location names and other data were consistent for all physicians.
Using Coffey's Provider Directory, the marketing team can add, edit or delete provider profiles on their own within the Coffey content management system (CMS). That means no broken links or outdated information on the new website. The team can also make global changes in one place and have them automatically pushed out to all provider listings.
Consumers can use the directory to easily search for providers through a variety of filters, like specialty or languages spoken. Consumers can also use location filtering to find a provider near them.
Solution: Giving back control
Managing content across a number of domains is challenging for any marketing team, especially when changes need to be routed through an external vendor, causing delays and outdated content.
Coffey's content management system (CMS) gives the University Health team full control. The CMS is easy to use and updates appear instantly on the website. It also comes with extensive training and the full support of the Coffey team, who are available to answer questions or to jump in and help with updates as needed.
Coffey also set up the Google Analytics account for the new website so University Health can easily get the data they need to make strategic decisions in consultation with Coffey.
Solution: Engaging health content
Along with rewriting service line content, Coffey also integrated engaging health information from our Digital Content Hub. Our assessments, quizzes, infographics and videos engage healthcare consumers without taking them away from the University Health website.
The valuable information provided by these tools helps consumers learn more about their health and encourages them to choose University Health for their care needs.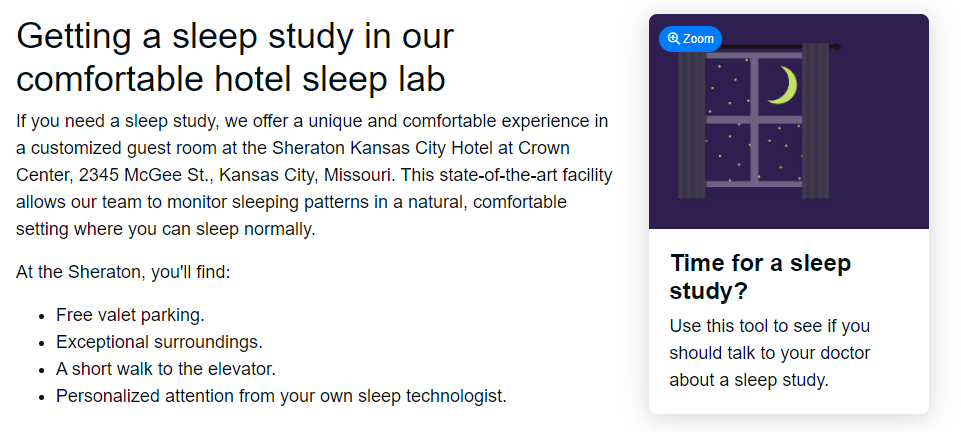 The Coffey team also integrated a third-party chatbot into the website to help direct site visitors toward trending content.
Health system websites are complex
Coffey understands your challenges and can guide you through even the most complex website migration and rebranding projects.